Dramatic Improv: Putting an Improvised Dramedy on Stage with James Tierney!
Sunday, October 22 @ 2:00 PM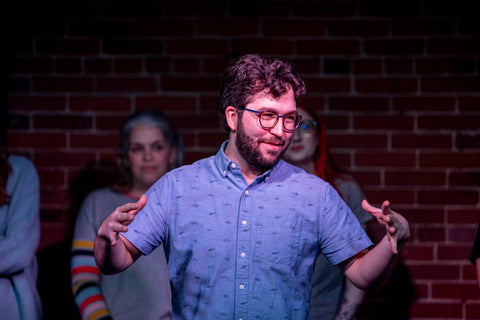 Discover the art of blending comedy and drama in this engaging workshop. Participants will learn how to create well-rounded scenes by embracing both the humorous and the emotional aspects of improv. We will explore techniques for building genuine connections between characters, navigating the delicate balance between laughter and drama, and bringing authenticity to your on-stage moments. 
Sunday, October 22nd
Time: 2:00pm to 4:30pm
Class size is limited to 16 students, minimum 6 to run
Ages 16 and up
No experience necessary
James
Tierney
is the Business Manager and Co-Founder of
Happy Valley Improv
and the Blue Brick Theatre located in State College, PA, and home to the Happy Valley XL Improv Festival. With a strong commitment to artistic innovation and community engagement,
James
has played an integral role in the success of these ventures.
James
's expertise is built on a foundation of training and hands-on experience. He honed his craft with esteemed institutions such as iO West in Los Angeles, ImprovCity, and Spectacles Improv in Orange County, CA. His passion for growth led him to Camp Improv Utopia, further enriching his understanding of improvisational theater.
Beyond his artistic endeavors,
James
remains deeply rooted in the State College community, where he generously volunteers his time. He also finds joy in his personal life, sharing his home with his partner Kimberly and their two rescue dogs, Penny and Dakota. It's worth noting that the performing arts didn't solely define
James
's journey; he previously contributed to education as an economics educator before embarking on his entrepreneurial path.
James
Tierney
's multifaceted background, unwavering dedication, and passion for creativity and community make him a dynamic force in the world of theater and beyond. His influence continues to inspire others to embrace the power of improv and the arts.